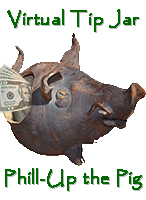 Look for the DONATE button near the picture of Phillup the Pig on the Next Concert's page.
Tips go to the performer and to the Wil-Mar Neighborhood Center.
At the physical Coffeehouse, we have Phillup the Pig, a "pass the hat" ceramic piggy bank for collecting donations that go to the musicians.
The Coffeehouse is a volunteer operated non-profit cooperative. Musicians also volunteer their talents when they perform.
The donations will be divided between the performer and the Wil-Mar Neigborhood Center. Some musicians are donating their share to Wil-Mar, as well.
Both performers and the Center have seen reduced income during the pandemic. Both need your support, so please give generoulsy. The Coffeehouse and Wil-Mar each are 501(c)3 charitable organizations.
Don't have a credit or debit card, mail a check to Wild Hog in the Woods at our temporary mailing address of 4153 Hanover Dr., DeForest, WI 53532.
The Coffeehouse is a membership managed cooperative, to join or renew your membership, visit our Membership page.