Welcome to
Phillup the Pig's Virtual Concerts
Due to COVID-19, the Coffeehouse's physical space at the Wil-Mar Neighborhood Center continues to be closed in support of social distancing. We are bringing you a live or prerecorded concert each Friday during this new way of life as we continue to support folk music in our community.
Concert Announcements: Sign up to receive email announcements about each week's concert. Or check our online calendar.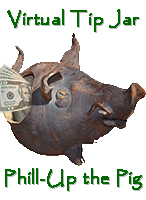 For our online virtual concerts, a donate button appears on each concert's page. Use it to donate via credit or debit card. The donations will be divided between the performer and the Wil-Mar Neigborhood Center.
Both performers and the Center have seen reduced income during the pandemic. Both need your support, so please give generoulsy. The Coffeehouse and Wil-Mar each are 501(c)3 charitable organizations.
Don't have a credit or debit card, mail a check to Wild Hog in the Woods at our temporary mailing address of 1319 Waldorf Blvd., Madison, WI 53719.
View past virtual concerts: click or touch here
Next Concert:
January 22: Aaron Nathans
Upcoming Concert Schedule:
Information on these upcoming concerts is on our calendar page.
January 29: Stephen Lee Rich
February 5: February Sky
February 12: Dughopper
February 19: Dan & Faith Senie
February 26: Elm Duo
March 5: Sandy Andina
March 12: TBA
March 19: Jim Barnard
March 26: Tom Waselchuk
April-May to be scheduled
Listen to the WORT interview about the Coffeehouse:
September 8: Host of Tuesday morning's Green World show, Brian Hirst, (WORT 89.9 and wortfm.org) interviewed one of our volunteers, Jamie Poindexter, about our streaming of concerts during the Covid pandemic in support of folk musicians, singer and songwriters.

Playback Recent (2020) Virtual Concerts:
Info for Musicians:
Specifications for streaming live from home using OBS.
Want to become a member of the Wild Hog in the Woods Coffeehouse?

Home Page | Virtual Concerts | Wild Hog Calendar of Events | About the Hog | Members | Signup for Announcements
This page was updated January 17, 2021 3:08 PM
© All Rights Reserved, Wild Hog in the Woods, Inc.
www.WildHogInTheWoods.org