Kelly Bleigh
Recorded at the Hog in 2019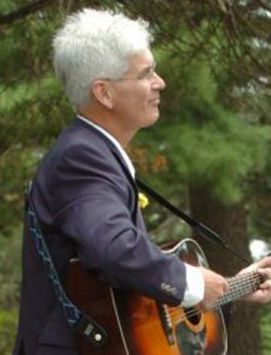 The Hog presents a replay from singer, guitarist, educator, and artist Kelly Bleigh when winter's wind swept in from Randolph, Wisconsin to the Hog in February 2019. His love for Woody Guthrie's music shines through. His good-natured deadpan humor will set you at ease. His wife Karen joined him on stage.

Our physical space remains closed. Watch this on your phone, tablet, or computer and take a break from your stay-at-home distancing.
The Coffeehouse remains closed. This concert is online only.
Donations helps the Hog to pay our rent.
If viewing on a iPhone or Android phone and the audio is distorted, listen using your earbuds or stereo headset.
Phones must mix the stereo to mono for the loudspeaker and can distort the audio in doing so.
Thank you for watching.
Want to become a member of the Wild Hog in the Woods Coffeehouse?

Home Page | Virtual Concerts | Wild Hog Calendar of Events | About the Hog | Members | Signup for Announcements
This page was updated August 21, 2022 2:55 PM
© All Rights Reserved, Wild Hog in the Woods, Inc.
www.WildHogInTheWoods.org