Wild Hog Presents a Streamed Virtual Concert with
Stairwell Music
Friday, September 25, 2020 at 7:30pm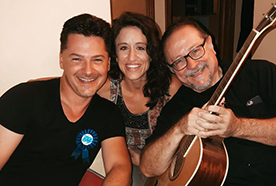 Stairwell is a trio venture from Wild Hog favorites Barry Callen, Hannah Kimyon, and Kirk Stone. The band's name comes from their discovery of the exciting acoustic energy when they played in the stairwell of Barry's apartment building. They are an eclectic bunch because they span three different generations, and each have different musical interests.
Hannah said, "somehow it just works!" Sometimes music is more than what you first hear. If you listen carefully, you can grasp something special, unique in their music. Stairwell Music brings originals and covers to life in this way.
Follow the band on Facebook and Instagram.
This is an encore presentation of Stairwell, recorded at the Coffeehouse on January 31st, prior to the pandemic.
Due to Covid, the Coffeehouse remains closed. This concert is online only. Watch this on your phone, tablet, or computer and take a break from your stay-at-home distancing while enjoying great folk music.
If you experience poor or distorted sound on a smartphone:
Smartphones must mix the stereo signal to mono for the single built-in loudspeaker.
This could distort the audio for some or all songs. Listen using your earbuds or stereo headset for best stereo sound.
Thank you for listening
Tune in again next Friday for "David H.B. Drake"
Want to become a member of the Wild Hog in the Woods Coffeehouse cooperative and support local music

Home Page | Virtual Concerts | Wild Hog Calendar of Events | About the Hog | Members | Signup for Announcements
This page was updated August 21, 2022 2:55 PM
© All Rights Reserved, Wild Hog in the Woods, Inc.
www.WildHogInTheWoods.org