Streamed Virtual Concert
Make Music Madison 2020
Sunday, June 21, 2020 at 1:30pm
A Sampler Video featuring some of great performers that have graced our stage!
Just in time for the annual Make Music Madison event, Summer Solstice and Father's Day, our technical team (led by Ron Dennis and Stephen Rich) has put together a special virtual concert video, introducing the Hog and showcasing a song from 27 different performers or groups. This video showcases some of the wide variety of talent that have performed on our stage. Video recording was done on occasion, in a variety of ways, dating back to 2008.
On this two hour Wild Hog sampler, you will see individuals, duos and groups. Vocal variations are many and include a cappella, sing-a-longs and yodeling. The many supporting instruments include guitar, banjo, flute, keyboard, violin, cajon, clarinet, drums, Native American flute, tin-whistle, accordion, harmonica and autoharp. Review the playlist below.
Whether learning about the Wild Hog for the first time, catching a sample of performers you may have missed or just wanting to reminisce through the years, this video is for you.
You will find more folk music performances Sunday at Make Music Madison's web site. Be sure to check out the schedule.
#makemusicmadison #makemusicday #livefromhomechallenge
The Coffeehouse remains closed. This concert is online only. Watch this on your phone, tablet, or computer and take a break from your stay-at-home distancing while celebrating world music, midsummer solstice and your father.
If viewing on a iPhone or Android phone and the audio is distorted, listen using your earbuds or stereo headset.
Phones must mix the stereo to mono for the loudspeaker and can distort the audio in doing so.
Thank you for listening.
Here's the playlist for this video: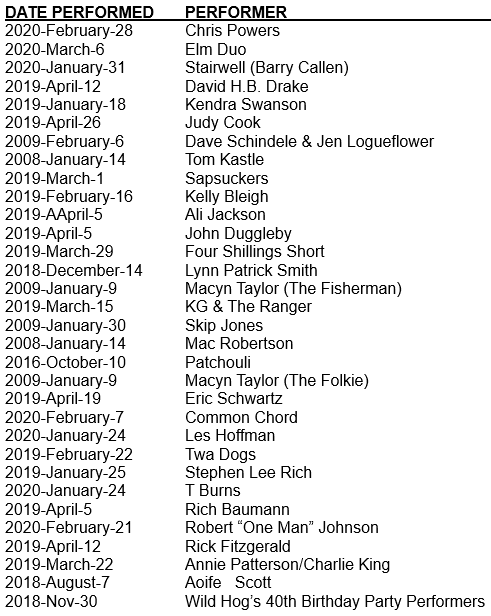 Want to become a member of the Wild Hog in the Woods Coffeehouse and support local music?

Home Page | Virtual Concerts | Wild Hog Calendar of Events | About the Hog | Members | Signup for Announcements
This page was updated August 21, 2022 2:55 PM
© All Rights Reserved, Wild Hog in the Woods, Inc.
www.WildHogInTheWoods.org