Pat Gaughan
Prerecorded Concert for April 24, 2020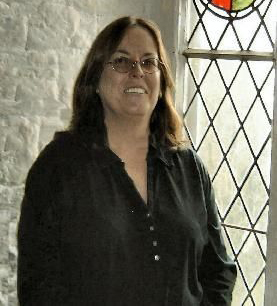 From her living room to yours, Pat Gaughan is an accomplished musician who was scheduled to play on our stage at this time. In compliance with our stay safe at home environment, she has prerecorded her concert for us.
Pat has collaborated her musical talents, presenting programs of traditional Irish music, folk, blues and original compositions. She has played throughout the Midwest at clubs, festivals, colleges, and headlining concert series. Pat teaches World Music and guitar at McHenry County College (Illinois). Her educational background informs her performances.
Pat and her friend Nancy Maio collaborated on Pat's Irish album "Parting Glass", which has received airplay on public radio stations in Europe and the United States. It is available on Amazon and CD Baby. Recently, Pat released a single, "Against Her Will", available on Amazon. It features Nancy Maio on fiddle.
Sample her music at patgaughan.com
The Coffeehouse remains closed. This concert is online only.
The first $50 in donations will be used by the Hog to pay our rent. Pat has requested that the remainder of donations for her performance tonight will go to DAIS (Domestic Abuse Intervention Services). Since 1977, DAIS has worked passionately and effectively to ensure the safety and well-being of domestic violence survivors and their families, and to change societal attitudes that perpetuate violence and the abuse of power.
If viewing on a iPhone or Android phone and the audio is distorted, listen using your earbuds or stereo headset.
Phones must mix the stereo to mono for the loudspeaker and can distort the audio in doing so.
Thank you for watching.
Want to become a member of the Wild Hog in the Woods Coffeehouse?

Home Page | Virtual Concerts | Wild Hog Calendar of Events | About the Hog | Members | Signup for Announcements
This page was updated August 21, 2022 2:55 PM
© All Rights Reserved, Wild Hog in the Woods, Inc.
www.WildHogInTheWoods.org