Wild Hog Presents a Streamed Live Virtual Concert with
Dugghopper
Friday, February 12, 2021 at 7:30pm CT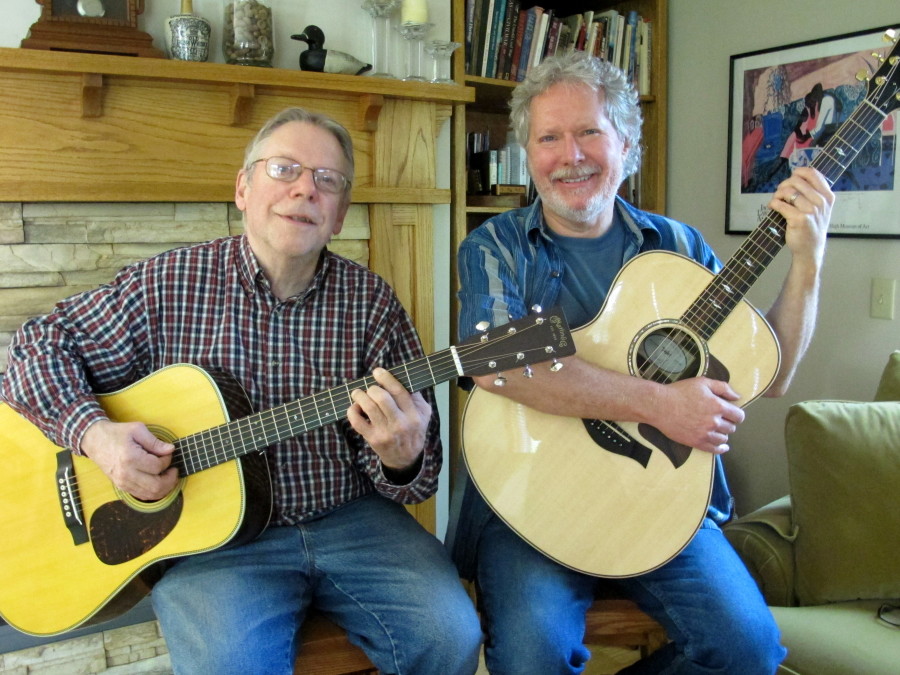 Dugghopper is Madison's prolific songwriter John Duggleby and Mineral Point's fine guitarist and music producer Dave Hopper.
John has released CDs in 2014 and 2019 which Dave co-produced. John writes for people of all ages and is MAMA's 2020 Children's Performer of the Year. His instruments are guitar, ukulele and percussion, including his ethereal new headpan.
Dave first picked up the guitar in 1965 and remembers plenty of songs of the 1960s. His genres include folk, rock and blues, Besides Dugghopper, he plays in the ensembles Still Strummin and Better Daze.
More info at www.johnduggleby.com. Concert link below.
Due to Covid, the Coffeehouse remains closed. This concert is online only. Watch this on your phone, tablet, or computer and take a break from your stay-at-home distancing while enjoying great folk music.
Wil-Mar is the neighborhood center where the Coffeehouse rents during normal times. Wil-Mar continues to run it's social services and food bank, while losing income from the cancelled festivals that make up half of their annual budget. In support of keeping Wil-Mar in business serving those that depend on these services, the Coffeehouse is continuing to pay our rent. So please donate generously to help us support Wil-Mar so they will be here when the pandemic comes to an end. Both Wil-Mar and the Coffeehouse are 501(c)3 charities.

If you experience poor or distorted sound on a smartphone:
Smartphones must mix the stereo audio to mono for the single built-in loudspeaker.
This could distort the audio for some or all songs. Listen using your earbuds or stereo headset for best stereo sound.
Thank you for listening
Tune in again next Friday for "
Dan & Faith Senie

"
Want to become a member of the Wild Hog in the Woods Coffeehouse cooperative and support local music

Home Page | Virtual Concerts | Wild Hog Calendar of Events | About the Hog | Members | Signup for Announcements
This page was updated August 21, 2022 2:55 PM
© All Rights Reserved, Wild Hog in the Woods, Inc.
www.WildHogInTheWoods.org