Wild Hog Presents a Streamed Live Virtual Concert with
February Sky
Friday, February 5, 2021 at 7:30pm CT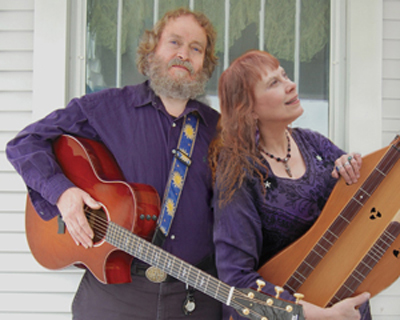 February Sky returns to the Hog from their home in the Upper Peninsula of Michigan. Traditional singer and Celtic guitarist Phil Cooper and singer/songwriter Susan Urban will entertain us live followed by an interactive chat after the concert using Zoom.
Phil sings and plays his own arrangements on guitar and cittern, as well as backing Susan on her songs.
Susan is a writer of story songs and humorous "slice of life" songs. She accompanies her songs and Phil's songs on guitar, banjo, mountain dulcimer, hand percussion instruments and Native American flute.
Their performances include vocal harmony and intricate instrumentation as they carry on the long folk tradition of expressing the human condition and appealing to the human heart.
More info at FebruarySky.com
Due to Covid, the Coffeehouse remains closed. This concert is online only. Watch this on your phone, tablet, or computer and take a break from your stay-at-home distancing while enjoying great folk music.
Wil-Mar is the neighborhood center where the Coffeehouse rents during normal times. Wil-Mar continues to run it's social services and food bank, while losing income from the cancelled festivals that make up half of their annual budget. In support of keeping Wil-Mar in business serving those that depend on these services, the Coffeehouse is continuing to pay our rent. So please donate generously to help us support Wil-Mar so they will be here when the pandemic comes to an end. Both Wil-Mar and the Coffeehouse are 501(c)3 charities.

If you experience poor or distorted sound on a smartphone:
Smartphones must mix the stereo signal to mono for the single built-in loudspeaker.
This could distort the audio for some or all songs. Listen using your earbuds or stereo headset for best stereo sound.
Note: the audio in this video has some echo during recording.
Thank you for listening
Tune in again next Friday for "Dugghopper"
Want to become a member of the Wild Hog in the Woods Coffeehouse cooperative and support local music

Home Page | Virtual Concerts | Wild Hog Calendar of Events | About the Hog | Members | Signup for Announcements
This page was updated August 21, 2022 2:55 PM
© All Rights Reserved, Wild Hog in the Woods, Inc.
www.WildHogInTheWoods.org