Streamed Virtual Concert
Stephen Lee Rich and Friends
Friday, May 15, 2020 at 7:30pm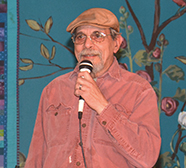 Keep a creative genius such as Stephen tucked away in physical isolation, his creativeness shines even more brightly. He dug deep into his video archives as well as creating some new video, mixed it all together at home so you can sit back, laugh and forget about the world outside. This show features videos from past concerts, studio recorded videos sketch comedy, animation. puppets, and a pie.
His friends in this show include Sandy Andina (Chicago's resident singing and guitar-and-dulcimer-slinging smart aleck) and Ingrid Frances Stark, with cameos by Nancy Rost and Ari John Whitewolf and instruments and vocals by Julia McConahay, Ingrid Frances Stark and Doug Hamilton, Tom Waselchuck, and Jeff Lisk. Some arrangements by Tracy Jane Comer.
More about Stephen because there is so much about this guy and his stage presence. Over 40 Years and Still At It! There's No Stopping This Train Now! Most teenage boys hang up their guitars after securing their first full-time job, but Stephen Lee Rich, after winning a talent contest at the county fair in Mariposa, California in 1969, has kept the music, jokes, and yodels coming. The 1970's found Rich learning and honing his craft at such seminal Chicago clubs as the Earl of Oldtown, the Barbarossa, Somebody Else's Troubles, and the No Exit Cafe.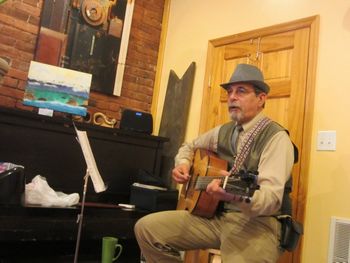 An article about him as a street musician was published in August of 1979 by the Reader, Chicago's alternative newspaper, inspired then-mayor Jane Byrne to put city-sponsored street musicians at strategic places around the city the following summer. They called it the Troubadour Program. In the 1980's, when the folk venues started to disappear, he began working at comedy venues like Zanies, the Comedy Cottage, and Kobart's Komedy Kove. He soon joined forces with a number of variety acts to inaugurate the Revolving Door Revue, a touring troupe whose peripatetic engagements first brought Stephen Lee to Wisconsin, specifically Fort Atkinson's Cafe Carpe and Madison's Wild Hog In The Woods Coffeehouse.
Relocating to Madison in 1995 to sing country music for The Road Band, he soon found work at the Anchor Inn, in Madison, as the host of their weekly acoustic jam. He also became one of the rotating hosts of the open mic at Mother Fool's Coffeehouse. Eventually he found his own venue running the open mic at Speed Jump Java Joint, then Urban Market and Coffeehouse, and finally Escape Java Joint. He kept that open mic going for another for six years. It got popular enough to get written up in a mainstream, daily newspaper, Madison's Capitol Times. In 2002 he released the CD, "Facing Monday" to much critical acclaim. In 2001 he started working with Sandy Andina to form the duo Andina and Rich.
Stephen volunteers at the Wild Hog, using his experience, genius and connections to select and schedule performers at our Friday concerts.
Please visit Stephen's web site at www.stephenleerich.com and his Facebook page.
The Coffeehouse remains closed. This concert is online only. Watch this on your phone, tablet, or computer and take a break from your stay-at-home distancing.
If viewing on a iPhone or Android phone and the audio is distorted, listen using your earbuds or stereo headset.
Phones must mix the stereo to mono for the loudspeaker and can distort the audio in doing so.
Thank you for watching.
Want to become a member of the Wild Hog in the Woods Coffeehouse and support local music?

Home Page | Virtual Concerts | Wild Hog Calendar of Events | About the Hog | Members | Signup for Announcements
This page was updated August 21, 2022 2:55 PM
© All Rights Reserved, Wild Hog in the Woods, Inc.
www.WildHogInTheWoods.org