Wild Hog Presents a Streamed Live Virtual Concert with
KG & the Ranger
Friday, October 30, 2020 at 7:30pm CT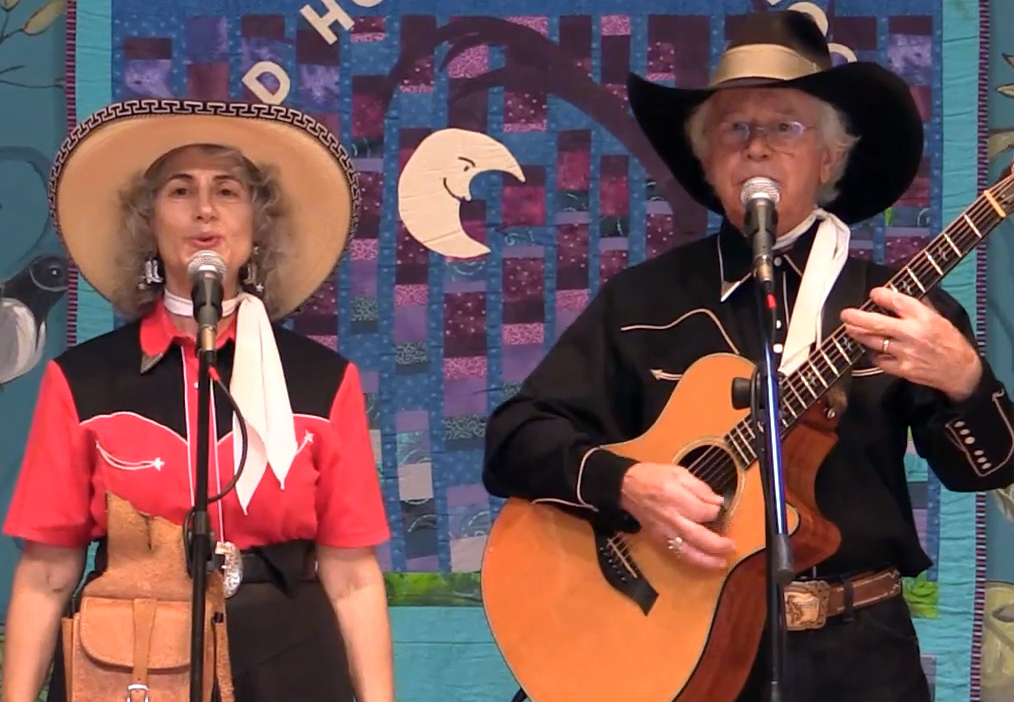 Discovering KG & The Ranger is like turning back the pages of time as they transport you back to the days of the dime matinees and the Silver Screen heroes like Roy Rogers, Sons of the Pioneers and Gene Autry. There is no doubt about their "mission" to keep these wonderful songs alive.
They are known for their creative harmony arrangements plus award-winning harmony yodeling. From familiar songs to the less well-known rare gems, they give them all their own unique sound.
KG and Ranger Rick have been performing together for more than 30 amazing years! Their "musical trail" together started in Madison in 1986 when Karen Gogolick was a successful jewelry designer with a passion for folk and early country music. She played guitar, bass and banjo, hosted a local radio show, and began collecting any song she could find about cowboys and cowgirls.

That same year Rick Roltgen was working at a local credit union and playing bass in a country/bluegrass band. Rick always had music in his life in some way, and honed his harmonizing and humor skills in a barbershop quartet. He had grown up with Gene Autry and Roy Rogers for heroes and loved their music.

One summer night, Karen brought her bass to play for a Wild Hog in the Woods Barn Dance. Rick showed up with his bass, too, and as they say, "the rest is history". They started playing together in an old-timey string band where their shared love of cowboy songs quickly became obvious. They also started singing together as a duo, and in 1989 they married and headed down the trail together as "KG & The Ranger". Their first official show as KG & The Ranger was at the Wild Hog in April of that year.

Whether being funny or serious, nostalgic or original, they always put on a great show! Awards include Western Music Association "Outstanding Entertainer - Duo" of 2010 and three-time "Harmony Yodeling Champions".
Don't miss this opportunity! And be sure to visit KG & the Ranger's web site for more music on the range.
Due to Covid, the Coffeehouse remains closed. This concert is online only. Watch this on your phone, tablet, or computer and take a break from your stay-at-home distancing while enjoying great folk music.
Wil-Mar is the neighborhood center where the Coffeehouse rents space during normal times. Wil-Mar continues to run it's social services and food bank, while losing income from the cancelled festivals that make up half of their annual budget. In support of keeping Wil-Mar in business serving those that depend on these services, the Coffeehouse is contributing half of the tips to Wil-Mar. So please donate generously to help us support, in addition to the peformer, Wil-Mar so they will be here when the pandemic comes to an end. Both Wil-Mar and the Coffeehouse are 501(c)3 charities. Some performers may opt to donate their half of the tips to Wil-Mar or an organization of their choosing.

If you experience poor or distorted sound on a smartphone:
Smartphones must mix the stereo signal to mono for the single built-in loudspeaker.
This could distort the audio for some or all songs. Listen using your earbuds or stereo headset for best stereo sound.
Thank you for listening
Tune in again next Friday for "Kaia Fowler"
Want to become a member of the Wild Hog in the Woods Coffeehouse cooperative and support local music

Home Page | Virtual Concerts | Wild Hog Calendar of Events | About the Hog | Members | Signup for Announcements
This page was updated August 21, 2022 2:55 PM
© All Rights Reserved, Wild Hog in the Woods, Inc.
www.WildHogInTheWoods.org