Wild Hog Presents a Streamed Live Virtual Concert with
John Duggleby
Writer, Musician, Chicken Dancer
Friday, November 13, 2020 at 7:30pm CT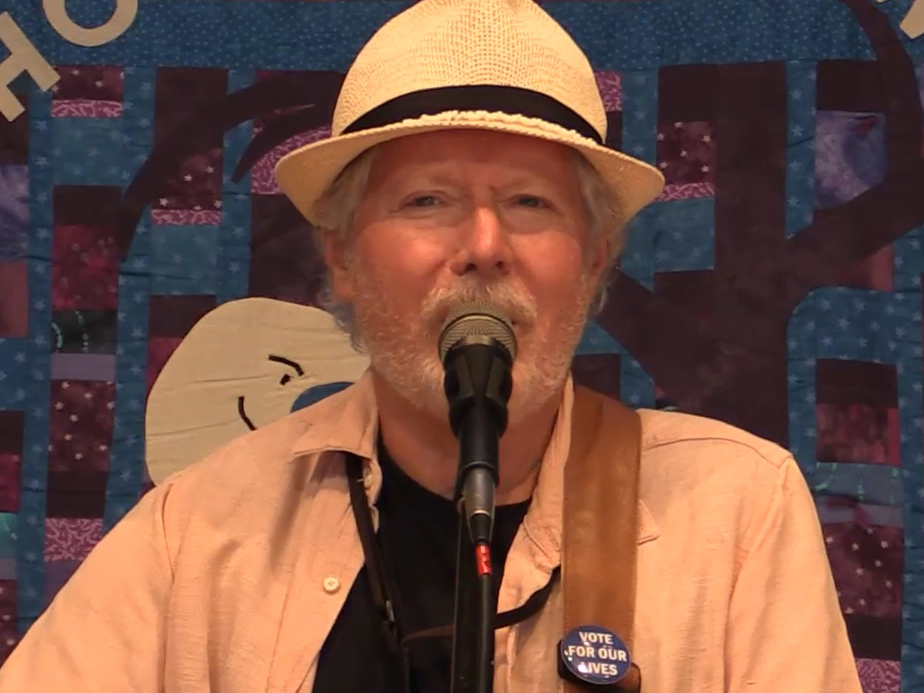 John Duggleby is no stranger to the Wild Hog. John was named 2020 Madison Area Music Association's Children's Performer of the Year, and  has received 2nd place for Singer/Songwriters in the Isthmus "Madison's Favorites" reader's poll.  His most recent literary work is a children's book on Louis Armstrong's childhood.
He is an award-winning songwriter and author of a dozen books and hundreds of magazine articles, made his professional performing debut at age five at the Sunset Supper Club in Muscatine, Iowa, singing, "You Must Have Been a Beautiful Baby" after the piano man bribed him with a nickel. After a hootenanny fling in a "baby Kingston Trio," he grew up as a percussionist playing everything from orchestra tympani to garage band rock and roll. As an adult he learned guitar as a more benign living room alternative.
Over the years John has labored in several underappreciated folk, 60s rock, Cajun, bluegrass and world music ensembles, but his main gig these days is playing over 100 one-man and duo shows a year for listeners of all ages, at venues ranging from coffeehouses, to senior centers, to libraries, to festivals. His songbook ranges from Stephen Foster and George M. Cohan to Beatles and Bruce Springsteen-- as well as his own material-- accompanied on guitar and who knows what else.  John also leads drum circles and kitchen bands for groups including seniors and disabled people.
John's first 2014 album Better Late Than Never and new 2019 double album Castaway can be heard at https://soundcloud.com/duggleby.  His songs have been finalists in the Great American and Great River Folk Festival Songwriting Contest, and Madison Area Music Awards (MAMAS); as well as runner-up in the international www.SongoftheYear.com competition.
More at www.johnduggleby.com
Due to Covid, the Coffeehouse remains closed. This concert is online only. Watch this on your phone, tablet, or computer and take a break from your stay-at-home distancing while enjoying great folk music.
Wil-Mar is the neighborhood center where the Coffeehouse rents space during normal times. Wil-Mar continues to run it's social services and food bank, while losing income from the cancelled festivals that make up half of their annual budget. In support of keeping Wil-Mar in business serving those that depend on these services, the Coffeehouse is contributing half of the tips to Wil-Mar. So please donate generously to help us support, in addition to the peformer, Wil-Mar so they will be here when the pandemic comes to an end. Both Wil-Mar and the Coffeehouse are 501(c)3 charities. Some performers may opt to donate their half of the tips to Wil-Mar or an organization of their choosing.

If you experience poor or distorted sound on a smartphone:
Smartphones must mix the stereo signal to mono for the single built-in loudspeaker.
This could distort the audio for some or all songs. Listen using your earbuds or stereo headset for best stereo sound.
Thank you for listening
Want to become a member of the Wild Hog in the Woods Coffeehouse cooperative and support local music

Home Page | Virtual Concerts | Wild Hog Calendar of Events | About the Hog | Members | Signup for Announcements
This page was updated August 21, 2022 2:55 PM
© All Rights Reserved, Wild Hog in the Woods, Inc.
www.WildHogInTheWoods.org