Wild Hog Presents a Streamed Live Virtual Concert with
Chris Powers
Friday, October 23, 2020 at 7:30pm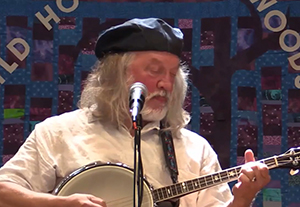 Chris Powers, a native of Philadelphia, PA, picked up the guitar at the age of 14, and within a few years knew the chords to every Beatles song. After graduating from Beloit College, he settled in Madison and began organizing a series of successful string bands. He showed off his mandolin chops with the string-jazz trio Nobody's Bizness and the long-lived Bluegrass Survivors.
He toured Wisconsin for many years with the UW-Extension's Heritage Ensemble – mixing folk music with American History, and played guitar in the orchestra of several Madison Theater productions. He developed and teaches group adult guitar courses with themes like "Jazz Chords and Swing", "Fingerstyle Blues" and "Bill Monroe Bluegrass Ensemble", and teaches private lessons too.
On Friday mornings you can hear him on WORT-FM 89.9 radio hosting the "MudAcres Bluegrass Special." When not constrained by a Pandemic, he plays guitar with the award-winning class-grass ensemble Graminy and plays multiple instruments with the Old Tin Can String Band.
His humor is expressed with a deadpan style that few can match. Chris prerecorded this concert on the Hog's stage without an audience. Don't miss this opportunity! Visit his web site.
Due to Covid, the Coffeehouse remains closed. This concert is online only. Watch this on your phone, tablet, or computer and take a break from your stay-at-home distancing while enjoying great folk music.
Wil-Mar is the neighborhood center where the Coffeehouse rents space during normal times. Wil-Mar continues to run it's social services and food bank, while losing income from the cancelled festivals that make up half of their annual budget. In support of keeping Wil-Mar in business serving those that depend on these services, the Coffeehouse is contributing half of the tips to Wil-Mar. So please donate generously to help us support, in addition to the peformer, Wil-Mar so they will be here when the pandemic comes to an end. Both Wil-Mar and the Coffeehouse are 501(c)3 charities. Some performers may opt to donate their half of the tips to Wil-Mar or an organization of their choosing.

If you experience poor or distorted sound on a smartphone:
Smartphones must mix the stereo signal to mono for the single built-in loudspeaker.
This could distort the audio for some or all songs. Listen using your earbuds or stereo headset for best stereo sound.
Thank you for listening
Tune in again next Friday for "KG & the Ranger"
Want to become a member of the Wild Hog in the Woods Coffeehouse cooperative and support local music

Home Page | Virtual Concerts | Wild Hog Calendar of Events | About the Hog | Members | Signup for Announcements
This page was updated August 21, 2022 2:55 PM
© All Rights Reserved, Wild Hog in the Woods, Inc.
www.WildHogInTheWoods.org