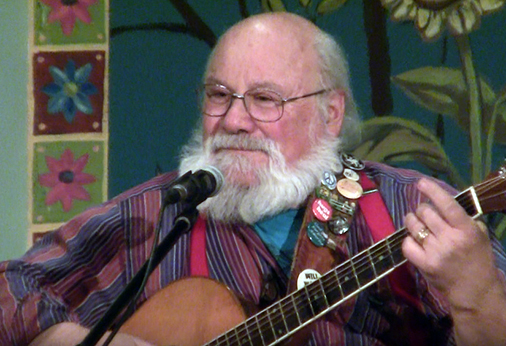 This concert is a special celebration of spring and a tribute to some of the musicians who have "mentored" David through the years, such as Tom Paxton, Phil Ochs, Stan Rogers, Harry Belafonte, Paul Simon, Gordon Lightfoot, Pete Seeger and Gordon Bok.
Folksinger, musician, and songwriter, David HB Drake conveys his experiences in the Midwest and on the Great Lakes through music.
Hailing from Milwaukee, he has written over 200 songs and has performed for more than 25 years. David has been called "a gentle troubadour" and "elemental folksinger". His music is inspired by his voyages across Midwestern prairies and the waters of the Great Lakes. He has performed for more than twenty-five years in a wide variety of art forms for all ages.
With more than a dozen CD's and a DVD for sale, get more info at www.davidhbdrake.com. Buy his albums from Amazon.com and search for "David HB Drake". Note, if you order through smile.amazon.com and register the Wild Hog in the Woods as your favorite non-profit, Amazon will contribute to the Hog.
Follow David on Facebook.
Tips are being split between the performer and the Wil-Mar Neighborhood Center to support the Center's social services during these trying times.Wil-Mar is the neighborhood center where the Coffeehouse rents space. Both Wil-Mar and the Coffeehouse are 501(c)3 charities.
If you experience poor or distorted sound on a smartphone:
Smartphones must mix the stereo audio to mono for the single built-in loudspeaker.
This could distort the audio for some or all songs. Listen using your earbuds or stereo headset for best stereo sound.
Due to Covid, the Coffeehouse remains closed. This concert is online only. Watch this on your phone, tablet, or computer and take a break from your stay-at-home distancing while enjoying great folk music.