Mike is a composer, songwriter, and performer in both classical and grassroots traditions. His classical composition includes dozens of works for chamber ensembles, symphony, choir, mandolin orchestra, and solo piano.  In 2010, he co-founded the award-winning quintet Graminy, whose four albums bring grassroots and classical music together in a style the group calls "class-grass."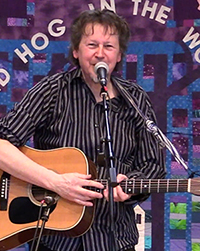 Mike's original songs focus on social and environmental themes. He has written over a hundred "fiddle tunes" - jigs, reels, waltzes, airs, and more.
Mike performs widely on mandolin and banjo with Graminy, and on guitar as a soloist and as a member of the Elm Duo.
Mike is also an author and scholar. See his separate site on his books, articles, and teaching here.
He is a frequent performer at the Wild Hog.
His website: www.michael-bell.net

Tips are being split between the performer and the Wil-Mar Neighborhood Center to support the Center's social services during these trying times.Wil-Mar is the neighborhood center where the Coffeehouse rents space. Both Wil-Mar and the Coffeehouse are 501(c)3 charities.
If you experience poor or distorted sound on a smartphone:
Smartphones must mix the stereo audio to mono for the single built-in loudspeaker.
This could distort the audio for some or all songs. Listen using your earbuds or stereo headset for best stereo sound.
Due to Covid, the Coffeehouse remains closed. This concert is online only. Watch this on your phone, tablet, or computer and take a break from your stay-at-home distancing while enjoying great folk music.