Analog audio capture to USB
Scarlett SOLO
by Focusrite
The Hog doesn't support or promote any brand over another brand. In Kaia's tutorial, she refers to using a Scarlett to capture her analog sound sources (microphone and instrument). There are several versions of the Scarlett, with different number of inputs and other bells and whistles. We will talk about the SOLO model which has one microphone input and one instrument input.
This audio capture device will take your analog sources and digitize them to output to a USB port on your computer. Each input channel has its own gain control. There is also a headset output so you can hear your audio mix in a headset. The Scarlett also supports 48 volt phantom power.
The digital audio feeds into the USB port on your computer so it can be added as a source in the OBS software. You can adjust the gains on the Scarlett to mix the mic and instrument. Use OBS to record your practice session so you can play it back to make sure the mix sounds good.
Some musicians use the Scarlett to feed the output of their mixer. This is used when the performer wants to use multiple instruments, and mix each one in the mixer. It's also useful for groups that want to stream using OBS.
The Scarlett is available at local stores (such as BestBuy, Guitar Center, and Full Compass) and online (including Amazon). Product information is available at Focusrite. There are other manufactures of audio capture devices, including simple one channel adapters with no bells and whistles the size of a thumb drive.
From the user manual, this diagram shows how to connect the Scarlett between your sources and your computer: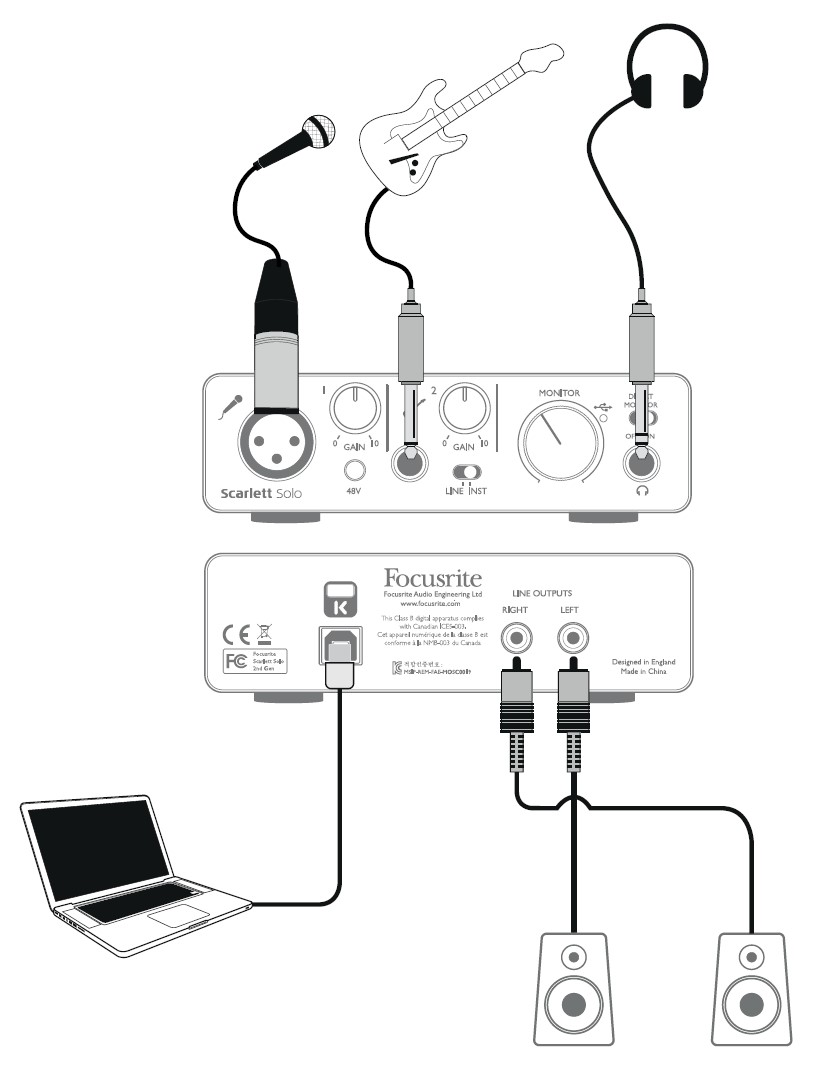 Home Page | Virtual Concerts | Wild Hog Calendar of Events | About the Hog | Members | Signup for Announcements
This page was updated December 30, 2020 4:29 PM
© All Rights Reserved, Wild Hog in the Woods, Inc.
www.WildHogInTheWoods.org