Ramona Carol Johannes
Dedicated Hog Volunteer for more than 20 years
1939 - 2016
We had a memorial concert at the Hog on April 14th.
Many musicians performed in her memory.
The following was provided by Lisa to the State Journal.
Madison-Ramona Johannes, age 77, passed away on October 25, 2016 after a brief illness. She was born in Chicago on April 18, 1939 to Etta Marie and Paul Harold Hershey and grew up in Inverness, California.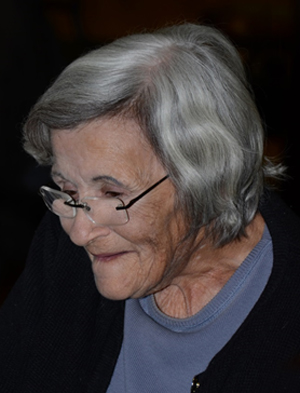 She married Wayne Neil Johannes in 1956 and they had two sons, Tony and Tim. Ramona is survived by her son Tim. She was preceded in death by her parents, her son Tony, and her husband.
Ramona was known to many in Madison who shopped at Dorn's Hardware in Sherman Plaza; she worked on the sales floor from 1985 until the store closed in 2013. Ramona had two passions in life: her sons and a love of folk music. Ramona was a dedicated mom, and loved her sons above all else.
She was an active and much-loved volunteer for over 25 years at two local folk music organizations in Madison: Madison Folk Music Society and the Wild Hog in the Woods Coffeehouse. Ramona served as volunteer coordinator, newsletter mailer and concert volunteer for Madfolk, and at the Wild Hog, she was a board member and musician booker. She was well-known in the folk music community, and her smile, friendship and willingness to help are greatly missed.
Ramona also had a deep faith. She attended First United Methodist Church for 26 years along with her son, Tim.
A memorial concert in her honor, with some of her favorite local musicians is scheduled at the Wild Hog in the Woods Coffeehouse, 953 Jenifer Street in the Wil-Mar Neighborhood Center on April 14, 2017 at 8:00 p.m.
Ramona's family and friends gratefully thank her neighbors Julie Phillips and Ron Ring for looking after her the last few years and being such great friends and helpers.
A graveside ceremony and burial is planned for December 12, 2016 at 1 pm at Highland Memory Gardens in Cottage Grove. Friends are welcome to attend. To view and sign an online guest book through Ryan Funeral Home, please visit www.ryanfuneralservice.com.

Home Page | Virtual Concerts | Wild Hog Calendar of Events | About the Hog | Members | Signup for Announcements
This page was updated August 21, 2022 2:55 PM
© All Rights Reserved, Wild Hog in the Woods, Inc.
www.WildHogInTheWoods.org