Michael "Maddog" Tuten
1946-2018
Mike was a fixture in folk music and folk dance communities and also hosted many house concerts. The Madison folk community is less without Maddog.
His obituary as it appeared in the State Journal: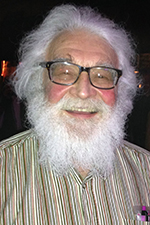 The love of my life passed from this world to the next on Aug. 14, 2018, at age 71. How to describe Mike Tuten? Husband, father, grandfather, son, brother, uncle and so much more. As one of his friends once said, he lived as a singing, dancing, crazy-sock-wearing, camera toting, hot air balloon chasing, pink gowned Morris Betty and crime fighting Santa Claus.
Mike was born in Madison Wis., on Oct. 12, 1946, to the late Tommy Tuten and the late Ruth Moquin Tuten. He was the first of their five children. He graduated from Monona High School in 1965 and from UW-Madison in 1971, majoring in Meteorology. During his time on campus he volunteered with the Red Cross Disaster Services. He operated a first-aid station in the basement of St. Paul's University Catholic Center to treat protesters and bystanders affected by the tear gas prevalent in the area at the time. He was a certified Water Safety Instructor and helped many overcome their fear of water—but not his wife's.
He married Carol Huber on Sept. 11, 1971. It was a love story that lasted. They have two daughters, Katherin and Anne, who were Mike's delight. Later an AFS student, Liesbeth Swinnen, joined the family as a "third daughter."
Mike worked as an investigator for the State of Wisconsin, first in Consumer Protection at the Justice Dept. and then at DATCP. He ended his career pursuing financial fraud at DFI. During this time he worked closely with the Milwaukee FBI office and was formally recognized by Robert Mueller, director of the FBI.
Mike pursued many activities with joy and energy. He was a hot air balloon observer, competition official, and crew chief. Mike was a fixture in folk music and folk dance communities, and an active volunteer in several neighborhood associations. Mike touched the hearts of all he met, and was especially loved by the Morris Dance community where he played the role of The Betty.
He was preceded in death by his parents; his nephew; a sister-in-law; and his parents-in-law. He is survived by his wife, Carol Huber; his daughters, Katherin Tuten (Matt Fago), Anne Eudaly (Tom) and Liesbeth Swinnen; and his grandchildren, Noa Seward, Gabrielle Diener, Schuyler Eudaly, and Elliott and Celia Cline. He is further survived by his brothers; sisters; in-laws; and numerous nieces and nephews.

Home Page | Virtual Concerts | Wild Hog Calendar of Events | About the Hog | Members | Signup for Announcements
This page was updated August 21, 2022 2:55 PM
© All Rights Reserved, Wild Hog in the Woods, Inc.
www.WildHogInTheWoods.org