Ivar Lohman
1917-2009
Memorial Service October 22, 2009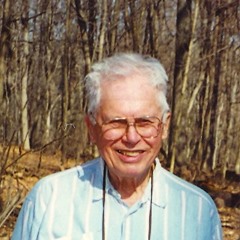 A memorial gathering took place at THE CROSSING, 1127 University Ave., Madison, on Thursday, Oct. 22, 2009, 7 p.m. - 9:30 p.m. In lieu of flowers, give to the charity of your choice. Ivar supported environmentalist causes and was comforted by HospiceCare.
The Hog and Madison's folk arts loose another folkie this year. Ivar Lohman was a regular volunteer at the Hog for many years in the first two decades of the Hog's existence. Some of you may remember him. He made sure the Hog's weekly concert posters got stapled to kiosks across Willy and State Streets and volunteered at the Hog.
From madison.com obits, Sunday, Oct. 11, 2009.
Ivar K. Lohman, age 92, died at home on Sept. 26, 2009. Born June 10, 1917, in Sheboygan to Ivar Lohman and Elsa Bitter Lohman, he attended Sheboygan High School and earned a B.A. in geography at the University of Wisconsin. He served in the Army during World War II, monitoring German radio signals. He married June B. Marthenze near Sheboygan, June 17, 1948, and lived in Sturgeon Bay, Madison, Milwaukee and Sheboygan. Divorcing in 1975, he lived the remainder of his life in Madison. A surveyor and a night watchman, he often hiked and canoed and had an abiding interest in perennial questions of philosophy and religion. His very active retirement included bicycle trips in Europe and the U.S., and courses through UW and PLATO. A regular in international folk and ballroom dance circles, he performed with Kickapoo Cloggers, Folklore Village Dancers and Italian Folk Dancers of Madison. He particularly enjoyed Cajun music, Argentine tango and Scandinavian dance. A bassoonist with the Madison Community Orchestra, he rode bicycle and bus to multiple music and dance events per week until last year. Surviving are daughters, Janet Sharpley of Westerlo, N.Y., Jennifer Lohman of Madison, and Melanie Pomerantz of Burlington, Vt.; son, Roger Lohmann of Markham, Ontario; 10 grandchildren; and a great-grandson. Siblings, John and Ann; ex-wife; and daughter, Sue preceded him in death. Ashes will be buried at Wildwood Cemetery, Sheboygan.

Home Page | Virtual Concerts | Wild Hog Calendar of Events | About the Hog | Members | Signup for Announcements
This page was updated August 21, 2022 2:55 PM
© All Rights Reserved, Wild Hog in the Woods, Inc.
www.WildHogInTheWoods.org