Bill Miller
1952-2018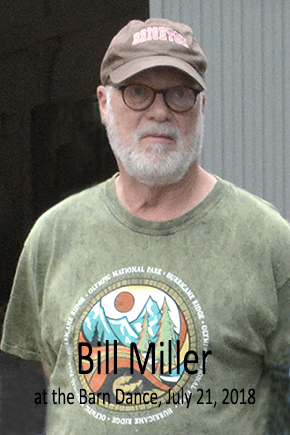 The folk community lost a long time friend and talented musician. Bill Miller passed unexpectedly. Bill played at many Hog barn dances over the years as a member of Rattletrap, including our dance this past summer. He will be greatly missed by dancers and old-time music fans. We extend our condolences to his wife Kate and family.
Obituary as it appeared in the State Journal on Sunday:
MADISON—William L. "Bill" Miller Jr. passed away unexpectedly on Nov. 20, 2018, at St. Mary's Hospital in Madison. Bill was born in Riverside, Ill. on Jan. 21, 1952, the son of William L. Miller Sr. and Rose Dorothy (Kuzelka) Miller. He graduated from the University of Illinois before moving to Madison, where he received his degree in Pharmacy from the University of Wisconsin. Bill and Kate McWhirter were married on June 6, 1986. Bill worked for GlaxoSmithKline for many years before he joined Navitus Health Solutions, where Bill helped the lives of many and found work he was truly passionate about.
Above all else, Bill loved his family, and spent countless hours attending his three children's extracurricular events, helping his beloved wife Kate perfect her garden, and talking endlessly about his adoration for his grandchildren. Bill also loved helping people. He saw the good in others and always offered a helping hand to those in need. Bill touched the lives of many in his community through volunteering.
An avid skier, Bill loved the mountains. He spent time in the ski patrol in his twenties, taught his children to ski as soon as they could walk, and dreamt of ski season all year round. Bill knew the weather of his favorite ski resorts at any given moment and would alert his family immediately upon first snowfall. Bill was also passionate about cycling, riding his bike for pleasure, and frequently cycling to work 20 miles round trip, regardless of weather or season. He loved music and played old-time square dance music with friends for over 40 years.
Bill is survived by his dear wife, Kate; his children, Eli (Kelly) Miller, Maggie (Marc) Weimer and Paul Miller; three grandchildren, Olivia, Emma and Henry Miller; his sister, Sue Miller; his stepmother, Alison Hubbard; and two nieces, Laurie (Jon) Westhoff and Lissy (Jeff) Duncan. He was preceded in death by his father, Bill Miller Sr.; his mother, Rose Miller, his brother, Mike Miller, and his nephew, Matt Harrison.

Home Page | Virtual Concerts | Wild Hog Calendar of Events | About the Hog | Members | Signup for Announcements
This page was updated August 21, 2022 2:55 PM
© All Rights Reserved, Wild Hog in the Woods, Inc.
www.WildHogInTheWoods.org