Friday, May 2nd, 6:30pm
Volunteer Potluck
Everyone interested in volunteering at the special events was invited to participate in the potluck prior to the evening's concert, at the Coffeehouse.
---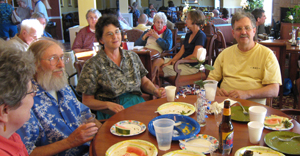 July 4th, 2 - 10pm
4th of July Traditional Potluck at Agnes Bennett's place
We had a good turn out, a chance to catch up with friends, enjoy good food and music jamming.
---
August 18, 4 - 9pm
Memorial Potluck at the Olin Park Barn
The weather was perfect and the mosquitoes stayed away untill the end. Potluck dinner was followed by some music by Loldy Jam. The last 45 minutes we all gathered around the memorial tree planted for Bill Bennett. Many took turns to talk about their fondest memories of the Hog, friends, and remembering those that have passed on. View Photos, by Tami Dettinger.
---
September 19, 8:00pm
Special 30th Birthday Concert
Deb Kmetz, Roxanne Neat, David Eagan, Mac Robertson, Stephen Lee Rich and some friends, plus the Balkan group Tri Bratovchedki also made an appearance.
---
Monday, September 22, 2008, 7 - 8:00pm
Wild Hog Hour on WORT Radio, 89.9 FM.
Ken Rineer has invited some old Hog friends to appear live on the radio. Colleen Foley and Sally Bennett will be playing for the first part, along with the Old Gray Cats (stringband based on Linda and Greg Mullenzi-Jones). They will also talk about the The Wild Hog in the Woods. It will be jst like the old days when Ken invited that week's performers to a live interview and play some songs on the air.
---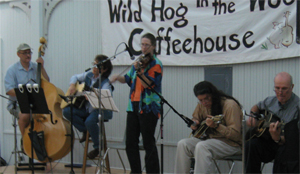 Friday, September 26, 7 - 10:30pm
Reunion Barn Dance at Olin Park
Just like we used to have every month. Enjoy a late summer evening in the park overlooking Lake Monona with views of the Capitol. Dance will be held in the barn at the park.
Live music and callers. All dances are taught. Admission: $5
---
Monday, October 13, 7 - 8:00pm
Wild Hog Hour on WORT Radio, 89.9 FM.
Ken hosted. Deb Kemtz was in the studio along with Michelle ??? from UW Extension Center for Cooperatives. Gordy Hiners was on the phone from North Carolina.
Listen to the program (mp3)
---
Monday, November 3, 2008, 7-8:00pm
Wild Hog on the Air, an hour on WORT Radio, 89.9 FM
Ken Rineer will be at the controls. Jamie Poindexter is organizing currentHog coordinators and volunteers to join her in the studio to talk about the birthday, a few memories, and a lot about how wonderful the Hog is.
Listen to the program (mp3)
---
Friday, November 7, 7:30pm - 10:30pm
Special Birthday Concert
Performers include Lou and Peter Berryman, Ken Longuist, Jim Schwall.
Lou and Peter Berryman specialize in songs that make humorous observations about the human condition and have an uncanny ability to make plays on words and sounds. Ken Lonnquist is a funny, enjoyable songwriter from Madison, he has a repertoire of serious and humorous songs he has written, both for adults and children, including many environmental songs. Jim Schwall is a singer and songwriter that was in the midst of Chicago folk music in the 60's and 70's, later earning his doctoral degree in music at UW Madison.
---
Saturday, November 8 11:00am - 1:00pm
Brunch With the Hog at Sardines in Machinery Row
Brunch get together to just talk, catch up with each other, and enjoy some good food at Sardine, in Machinery Row at 617 Williamson Street in Madison. View the brunch menu. Parking lot available, major bus routes, too. Directions.
---
Saturday, November 8, 7:00 to 11:00pm
Barn Dance
At Grace Church on the Capital Square at West Washington. Every dance is taught. Callers include Jane Sekulski, Mike Mossman and Bill Miller. Bands include "By Gone Days", "Rattletrap", "Heywired", plus a couple of short sets with additional local performers.
---
Friday, November 21
Birthday Party and Potluck
Potluck Dinner, Birthday Cake, music jam and sing-along at the Coffeehouse. We started the celebrations on July 4th with a potluck, so what better way to bring our celebrations to a close! Details will be posted soon.