Art Thieme

American Folk Musician, Storyteller, Humorist, Historian

July 9, 1941 – May 26, 2015

Art was one of the Hog's opening night performers back in 1978. He played many times at the Hog and other area venues, such as the Green Dragon Inn in Fort Atkinson, until his retirement due to MS. We all have missed his talented performances and can only rely on the albums he produced and some live performance videos on You Tube.

Photo provided by Chris Thieme. This photo was taken at our original location at 604 University Avenue in Madison. That dates it to 1978 through 1982. We rented the space from the Green Latern Eating Coop on Thursday and Friday evenings.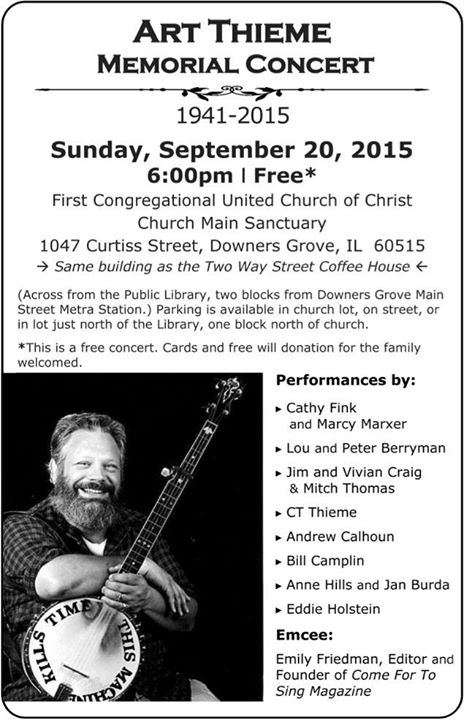 For more information, visit the Memorial Concert Web Site
and the Memorial Concert Facebook Event Page
---
Art's obituary appeared in the Chicago Tribune:
Arthur "Art" Thieme, a Chicago folk musician who took his intimate style of storytelling and humor across the country while remaining a mainstay at local venues for nearly four decades, has died, his son said Wednesday. He was 73.
Thieme earned a reputation as a master of the American folk ballad, often playing the six- and nine-string guitar or five-string banjo and occasionally the violinlike musical saw. Regardless of instrumentation, his performance was always highlighted by his comfortable demeanor and comical use of puns and wordplay.
Thieme died of complications related to multiple sclerosis Tuesday night in Crystal Lake, where he lived with his wife in a nursing home, said his son, Chris Thieme.
"His music, the way he could take an entire auditorium of people and make them feel like they were in his living room, he just had that way about him," Chris Thieme said. "He was a great person, a great man."
A Chicago native, Thieme grew up playing the guitar as a teenager, frequenting the beatnik clubs of the late 1950s and early 1960s. He later became captivated by historic stories while working as a manager at the Old Town School of Folk Music. He incorporated many historic stories into his music, like his 1986 performance of "Mr. Garfield," a sung-and-spoken piece about the 1881 assassination of President James Garfield.
"He loved traditional songs, stories from all around country, all around America," Chris Thieme said. "He primarily was a folklorist. He loved the idea of preserving parts of American history that otherwise would be lost."
The school is also where Thieme met his wife, Carol. Shortly after the couple married and traveled the country, they returned to Chicago's Lakeview neighborhood. Thieme gravitated to the coffeehouse ambience and creative crowd at the Rogers Park establishment No Exit Cafe, a venue he played every Thursday for much of his career — including Thanksgivings.
"He had been in the folk scene, and so it had been germinating at that point whether he wanted to do it full-time," Thieme said. "When my mom told him she was pregnant with me, he walked to Lake Michigan and thought and said, 'Let's make a go of it,' and he never looked back."
In 1977, Thieme released his first of seven albums, "Outright Bold-Faced Lies." Chris Thieme said his father's favorite was "On the Wilderness Road," released in 1986.
Art Thieme passed the music bug along to Chris, who performed his father's songs as recently as two weeks ago at a Lake County venue.
Thieme lost his playing ability in the mid-1990s, around the time he was diagnosed with MS. He still released a collection of his live performances in 2006, "Art Thieme Live: Chicago Town & Points West."
Thieme is also survived by his brother Richard and five grandchildren.
Source: Chicago Tribune, May 28, 2015. Article by Tony Briscoe tbriscoe@tribpub.com
chicagotribune.com/entertainment/music/ct-folk-musician-art-thieme-dies-met-20150527-story.html
---
Other Art Thieme related links: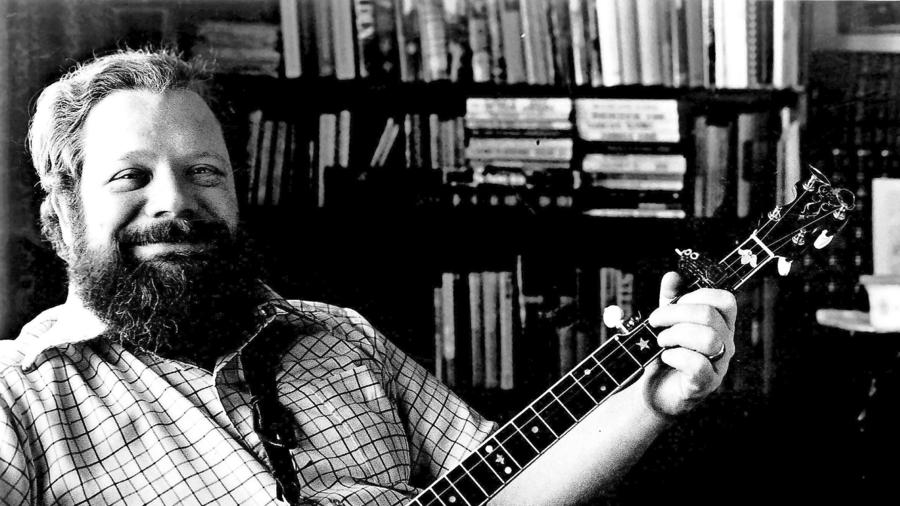 Home Page | Virtual Concerts | Wild Hog Calendar of Events | About the Hog | Members | Signup for Announcements
This page was updated August 21, 2022 2:55 PM
© All Rights Reserved, Wild Hog in the Woods, Inc.
www.WildHogInTheWoods.org