Mugs and T-Shirts
40th Anniversary Edition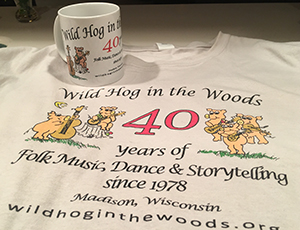 Buy your mug and shirt, featuring our 40th anniversary logo, when you next visit the Coffeehouse.
Want to order them now for yourself or as a gift? Send an email to us and we will make arrangements with you: info@wildhoginthewoods.org
Shirt sizes range from M to XL. Colors in light brown (shown), mist green and sky blue.
Mugs, one size, great for hot chocolate, coffee or tea. Logo wraps around the mug.

Home Page | Wild Hog Calendar of Events | About the Hog | Members | Signup for Announcements
This page was updated January 13, 2019 11:42 AM
© All Rights Reserved, Wild Hog in the Woods, Inc.
www.WildHogInTheWoods.org