Coffeehouse Style Music in the Folk Tradition
In the Wil-Mar Neighborhood Center
953 Jenifer Street, Madison, Wisconsin
Our Events Schedule 40th Anniversary Celebrations

Founded in 1978, our weekly folk music concerts are a Madison tradition for 40 years. They are held in the idyllic setting of an old church (now the Wil-Mar Community Center) on Madison's near east side, just one block off of Willy Street. The smoke-free atmosphere is relaxed with dim lighting and candles on the tables with teas, natural juices and locally ground coffee available. Fresh baked goods, such as cookies, muffins or whatever the volunteer bakers made this week are also available.
The scheduled folk, singer/songwriter and story telling talent is the finest in the area, the state and the nation, featuring many local performers along with regional and national acts that are traveling in the area. The open mike is a mix of local/traveling, amateur/pro, folk artists/songwriters and are always a surprise. Sign up at the door when you arrive if you would like to perform during the 15 minute open mike between sets.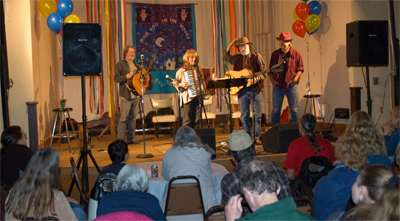 Admission pays the rent. Performers are paid from the money the audience puts in our ceramic wild boar piggy bank, affectionately called Phillup the Pig (pronounced fill-up). Admission is typically $2 for members and $4 for non-members (higher for special events).
When are the concerts?
Concerts are held Fridays, usually starting at 7:30pm. Seating is limited, so plan to arrive ten to 15 minutes early. Check our calendar for concert details.
Where is the Coffeehouse?
On Madison's near East Side, we are located just one block south of Willy (Williamson) Street on Brearly at Jenifer Street, the coffeehouse is in an old brown church building converted into the Wil-Mar Neighborhood Center. We have easy access to parking, city buses and bike paths.

The address is 953 Jenifer Street. Maps and directions

We serve baked goodies, juices, tea and Steep & Brew's Wild Hog Blend coffee.
Who are we?
We are members of an all volunteer run, non-profit organization based on cooperative principles. We are dedicated to promoting, preserving, and enjoying all types of traditional folk and acoustic music, by providing weekly live performances in our coffeehouse, and occasional special concerts, dances and other events and partnering with other local folk organizations when appropriate.
What is Wild Hog in the Woods, Inc.?
Wild Hog in the Woods, Inc. is a non-profit, tax-exempt IRS 501(c)(3) educational and historical corporation organized to advance the public knowledge of folk arts and dedicated to providing a stage where anyone, from first time on stage to seasoned performers, can perform for folk-loving audiences.
Our "sister" organizations:


Wil-Mar

Home Page | Wild Hog Events | Other Folk Events | About the Hog | Members | Signup for Announcements
This page was updated April 19, 2018 12:31 PM
© All Rights Reserved, Wild Hog in the Woods, Inc.
www.WildHogInTheWoods.org